Professional LED Tactical Flashlight with Holster
* Free holster offer only available while supplies last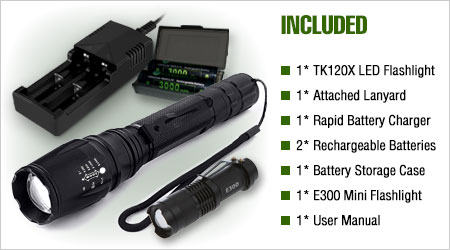 Constructed of aircraft grade aluminum alloy, the TK120X LED tactical flashlight with holster gives you the durability needed for outdoor activities like camping and hunting. But it's also used by many security pros due to its Strobe Light function.
This is how it works. Imagine you have a robber break into your house in the middle of the night. Using the Strobe Light, shine the flashlight beam into the criminal's eyes and for a moment, he can't see because it shocks his vision. Strobing bright light forces the brain to complete partial images created by the momentary exposure to the strobe.
With each strobe exposure, these modified images multiply, increasing perceptual disparity. During those moments when the robber is confused and can't see clearly, you can gain the upper hand. That moment could literally save your life!
This LED tactical flashlight with holster is the perfect addition to any household, but it's often used by hunters and security professionals. It's a tool that all serious hunters, campers, professionals and security people should have in their arsenal.
The TK120X LED Flashlight offers so many exciting features and, for a limited time, it comes with a free holster. Add the TK120X LED Flashlight Kit to your shopping cart and the FREE holster is automatically included. These are a Special Buy so once they run out; you may not be able to find them again with the holster. And, a holster is so handy if you're out working on a job site or hunting in the dark.
This unique LED Tactical Flashlight has multiple light modes for use with the zoom feature. This gives you a truly adjustable focus that can be invaluable during emergencies like floods, earthquakes, hurricanes and tornadoes. Since the flashlight is made of an aircraft grade aluminum alloy, it has a hardened anodized finish that will withstand moisture, hard bangs and other heavy usage. This professional LED flashlight is a great choice for those working in the disaster industry.
How the Adjustable Focus Zoom Works
One of the important features of this LED flashlight is the zoom lens. It's ideal for many situations from hunting and camping to security work. The Adjustable Focus Zoom on the TK120X LED Tactical Flashlight allows you to shine the light beam on a targeted area. It can even be something in the distance. You might need enhanced light on a moonless night to spot a deer or an owl in a tree. Security guards often need to see exactly what something is even in a dark warehouse. It might be a stray animal but it could be a thief. You need to know.
5 Light Modes


The TK120X Flashlight offers five different preset light modes (High, Medium, Low, Strobe and SOS). Want to change to a different light mode? It's easy. Just quickly click on the tail-cap button. This is a must-have for those who like to go jogging in the evenings. This professional LED flashlight can be a lifesaver for individual self-defense. Of course, if you just need a simple flashlight on any project, use the medium or low beams.
In S.O.S. mode, the flashlight will send out the international Morse code distress signal. When activated, the light beam flashes quickly three times, slowly three times, followed by three more fast flashes. The light flashing frequency is standard and the S.O.S light mode repeats itself when the light cycle completes.
Details and Specifications
100,000 Hour LED: Bright light intensity; long-lasting with no bulb to burnout
Durable: Constructed of aircraft grade aluminum alloy with a hardened anodized finish for ruggedness
Design Features: Water resistant, anti-abrasive, shock-proof
Zoom Focus: x1 x250 x500 x1000 x2000
5 Light Modes: High, Medium, Low, Strobe and SOS
Attached Hand Lanyard: Removable lanyard clip
Power Options: Powered by 2 x 18650 lithium-ion batteries (included)
Extended Run-Time: About 2 hours of additional run-time as compared to the TK120 Flashlight
Brightness: Up to 900 lumens on the high setting. Using the zoom feature, this increases up to 1600L
Dimensions: 8″ (Length) x 1.5″ (Width)
Color: Black
FREE Flashlight Holster with Purchase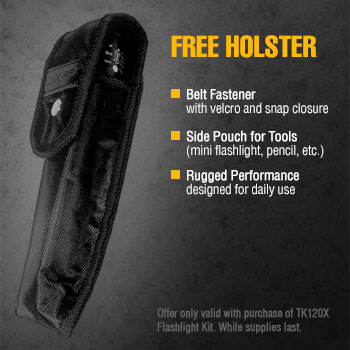 Package Includes:
1 x TK120X LED Tactical Flashlight with Holster
1 x Attached Lanyard (removable)
1 x Attached Belt Clip (removable)
1 x Rapid Battery Charger
2 x Rechargeable Batteries
1 x Storage Case for Batteries
1 x Mini E300 LED Flashlight (battery not included)
1 x User Manual
The TK120X Tactical Flashlight with holster is a great choice for hunters, disaster workers, security guards or anyone who needs to see better at night. It's rugged, durable and ready to go anytime.