Tactical Professional LED Flashlight Kit with Rechargeable Batteries & Charger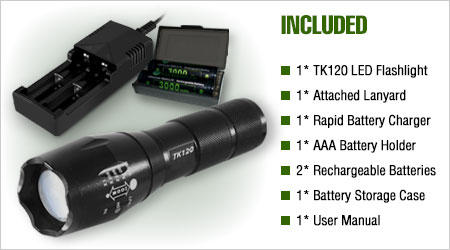 The TK120 LED Flashlight is a complete professional LED flashlight kit for home use, outdoor activities, security and professionals. Equipped with multiple light modes, the TK120 LED Tactical Flashlight delivers excellent light spread when using the zoom feature (adjustable focus). Constructed using high-quality standards, the TK120 Professional LED Flashlight is made of aircraft grade aluminum alloy with a hardened anodized finish. So when the going gets tough the TK120 Flashlight gives you high-strength and durability needed for nearly any situation.
As an extremely rugged tactical flashlight, the TK120LED Flashlight Kit includes two high capacity lithium-ion rechargeable batteries and a rapid battery charger. Ideal for many situations and uses, the TK120 makes a perfect LED tactical flashlight with strobe. Not only is it great for professionals but makes a great flashlight kit for tactical situations, family camping, hunting trips, fishing and night patrols. It is a very useful LED emergency flashlight to aid in emergency assistance and natural disasters including earthquakes, hurricanes and storms.
Key Features
Adjustable Focus Zoom
An important feature of the TK120 LED Tactical Flashlight is the adjustable focus zoom lens. The zoom feature allows the user to focus the light beam to enhance light on a targeted area. This feature is useful when a narrower beam is needed in order to see something specific from a long distance. For example, a security guard approaching a potentially dangerous situation, or a hunter moving up on an animal would find this particularly useful.
5 Light Modes


The TK120 Flashlight offers five different light modes which include High, Medium, Low, Strobe and SOS.  Changing to a different light mode is as simple as a quick-click on the tail-cap button. The multiple light modes are designed to accommodate you in nearly any situation.
The bright light beam offers optimum visibility, making it ideal for anyone in personal security including law enforcement, military, or individual self-defense. The medium and low light beams are ideal for standard use or when less light is needed.
The S.O.S. is the international Morse code rescue signal and can be used as a life-saving signal in case of an emergency. When the S.O.S light mode is activated the light beam flashes fast three times, slowly three times and then quickly three times. The light flashing frequency is standard and the S.O.S light mode repeats itself when the light cycle completes.
The popular Strobe Light option is perfect for self-defense when faced with a potential security threat. When a tactical strobe light is shined into the eyes it does not allow the photoreceptors to reset, which shocks an individual's vision. Strobing bright light forces the brains to complete partial images created by the momentary exposure of the strobe. These after images compound with each strobe exposure, which increases perceptual disparity. These few moments can help a person escape a situation or gain an upper hand.
If you prefer to have additional run-time, consider the TK120X Professional LED Tactical Flashlight with Holster. The TK120X provides about 2 hours more of lighting power than the TK120 Flashlight.
Flashlight Details and Specifications
100,000 Hour LED: Bright light intensity; long-lasting with no bulb to burnout
Durable: Constructed of aircraft grade aluminum alloy with a hardened anodized finish for extreme ruggedness
Design Features: Water resistant, anti-abrasive, shock-proof
Zoom Focus: x1 x250 x500 x1000 x2000
5 Light Modes: High, Medium, Low, Strobe and SOS
Attached Hand Lanyard: Removable lanyard clip
Power Options: Powered by 1 x 18650 Lithium-ion Battery (included) OR 3 x AAA Alkaline Batteries (not included)
Brightness: Projects up to 900 lumens at its highest setting. Using the zoom feature, this stretches up to 1200 lumens
Multi-Uses: Flashlight can stand upwards on a flat surface to use as a candle and illuminate a room
Flashlight Dimensions: 5.4 (length) x 1.6 (width) x 1.1 (barrel width) inches
Color: Black
Package Includes:
1 x TK120 LED Tactical Flashlight
1 x Attached Lanyard
1 x Rapid Battery Charger
1 x AAA Battery Holder
2 x Rechargeable Batteries
1 x Storage Case for Batteries
1 x User Manual
The perfect flashlight for home use, outdoor activities, security and professional use!