Our Best Flashlight for Camping
A Complete LED Flashlight Kit Perfect for Outdoors and General Home Use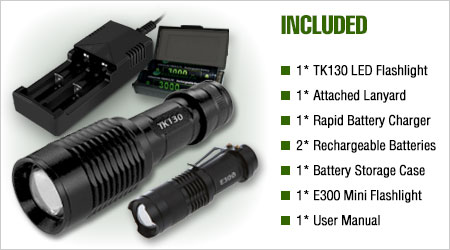 The TK130 LED Flashlight utilizes high-efficiency LED technology. The tough, smart design makes it convenient for hunters and campers. In fact, it's been touted as the best flashlight for camping. You can carry it into forests for a rugged day of hiking or drop it on the ground and in the water and it still works.
The TK130 LED Flashlight is often used by disaster relief workers who must wade through flood waters and rotting structures. It's lightweight so it doesn't add much to your gear pack and when you have to carry around tools and supplies all day, that extra weight matters. However, the manufacturers haven't scrimped on the design. The TK130 LED Flashlight is constructed of aircraft grade aluminum alloy and has a hard anodized finish.
Looking for a Small Rechargeable Camping Flashlight?
This LED flashlight is an excellent choice for those in the security business. It fits comfortably in a jacket pocket but offers 5 light modes: High, Medium, Low, Strobe and SOS. If you're in an emergency situation and need to change light modes quickly, all you do is click the tail-cap button. It also has an SOS mode where the flashlight will send out a distress signal in Morse code. If you're lost on a mountain top or at sea, this could come in very handy.
Best Flashlight for Camping

The TK130X Flashlight offers sound functionality plus a measure of safety whether you're out jogging or the electricity just went out and left the whole house dark. You can stand it up on a flat surface to illuminate an entire room. This small rechargeable camping flashlight just may be the best flashlight for camping that you've ever owned.
The pocket-friendly compact chassis features an anti-slip finish so it won't slip out of your hands in an emergency. If you're searching for a sturdy but small rechargeable camping flashlight, the TK130 LED is a perfect choice. We think you'll agree that this is the best flashlight for camping.
Details and Specifications
100,000 Hour LED: Bright light intensity; long-lasting with no bulb to burnout
Durable: Constructed of aircraft grade aluminum alloy with a hardened anodized finish for ruggedness
Design Features: Water resistant, anti-abrasive, shock-proof
Zoom Focus: x1 x250 x500 x1000 x2000
5 Light Modes: High, Medium, Low, Strobe and SOS
Attached Hand Lanyard: Removable lanyard clip
Power Options: Powered by 1 x 18650 Lithium-ion Battery (included) OR 3 x AAA Alkaline Batteries (not included)
Brightness: Up to 900 lumens on the high setting. Using the zoom feature, this increases up to 1200L
Multi-Uses: Flashlight can stand upwards on a flat surface to illuminate a room
Color: Black
Package Includes:
1 x TK130 LED Flashlight
1 x Attached Lanyard
1 x Rapid Battery Charger
1 x AAA Battery Holder
2 x Rechargeable Batteries
1 x Storage Case for Batteries
1 x Mini E300 LED Flashlight (battery not included)
1 x User Manual
An excellent flashlight choice for camping, hiking, other outdoor activities, security and disaster prep kits!