18650 Button-Top Rechargeable Batteries PCB Protected Best for Flashlights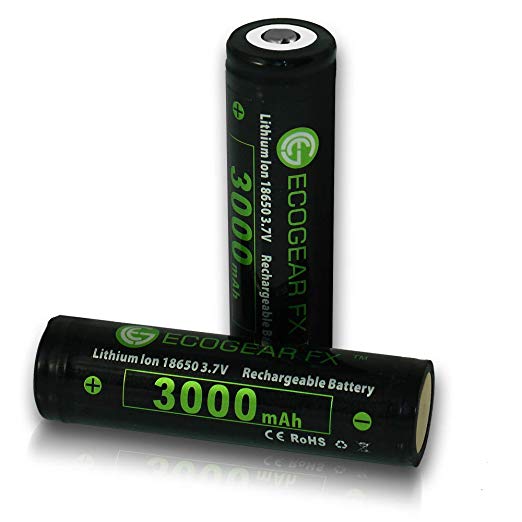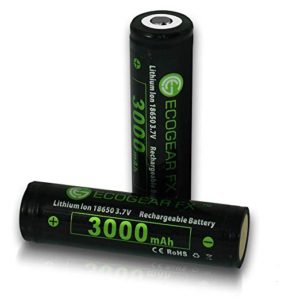 High powered 18650 lithium flashlight batteries offering 3000mAh of reliable power. The EcoGear FX 18650 button top lithium-ion rechargeable batteries are unique and are packed with an amazingly amount of powerful energy. This is our best 18650 battery as it provides dramatically increased longevity, low self-discharge, efficiency and optimized usage time. The choice battery for LED tactical flashlights and battery-powered professional gear.
When you think of batteries, what might come to mind  is what you have seen in most in the store aisles. There is the widely used AA or AAA alkaline size batteries. However, alkaline batteries are old out-dated technology and cannot match the power of lithium-ion batteries. These 18650 PCB lithium flashlight batteries deliver the power needed and offer up to 500 charging cycles.
The 18650 button top battery is the best for using in LED flashlights, video doorbells, camping lanterns, indoor fans, portable radios, bluetooth speakers, work lights, motion lights, cordless power tools, solar yard lights and many other low drain devices. Lithium rechargeable batteries are also used in aerospace technologies applications (radio-controlled models, model aircraft, the Mars Curiosity rover, etc.). The 18650 PCB battery is protected with a small built-in electronic circuit which prevents overcharging and over-discharging.
Features and Benefits:
• Integrated PCB Protection
• Lithium Ion 18650 cylindrical rechargeable batteries
• Internal PCB protection prevents under-voltage at 2.5V and over-voltage at 4.25V
• Higher energy density and lower weight than many other rechargeable 18650 lithium flashlight batteries
Battery Specifications:
• Capacity: Nominal&: 3000mAh, Minimum: 2600 mAh
• Internal PCB protection prevents under-voltage at 2.5V and over-voltage at 4.25V
• Nominal Voltage: Average 3.7V
• Cut-off Voltage: 2.5V
• Internal Impedance: less or equal to 180 milli-ohm (with PTC)
• Cycle Performance: 90% of initial capacity at 400 cycles
• Cycle life: > 500 cycles
• Charge: Current = 0.5C (~1500mA) Voltage = 4.2 V End Current = 0.01 mA
• Discharge: Current = 0.5C (~1500mA) End Voltage = 3.0V
Product Dimensions
• Diameter: 18.5 mm
• Length: 68.7 mm
These are the same lithium-ion batteries which were once top-selling on Amazon. Unfortunately, Amazon no longer allows the sale of many types of lithium-ion batteries including 18650 batteries. These batteries are NOT recommended for high-drain devices (i.e. Vaping Products).