18650 Button Top Batteries with Charger
This is a complete Battery Kit which includes a battery charger with 2 charging bays, a 2-pack of 18650 button top batteries and a free battery storage case. The 18650 button top lithium-ion rechargeable batteries offer 3000mAh of power. The batteries offer low self-discharge and can be recharged up to 500 times. These 18650 batteries are a perfect choice for a high powered tactical flashlight or other low drain devices which require button top batteries.
The battery charger has two separate charging slots, each of which charges and monitors a battery independently. Batteries can be charged simultaneously and the charger automatically detects the battery status and applies the appropriate charge mode. The chargers LED lights will display the batteries charging progress. Once charging is complete the charger will auto-stop.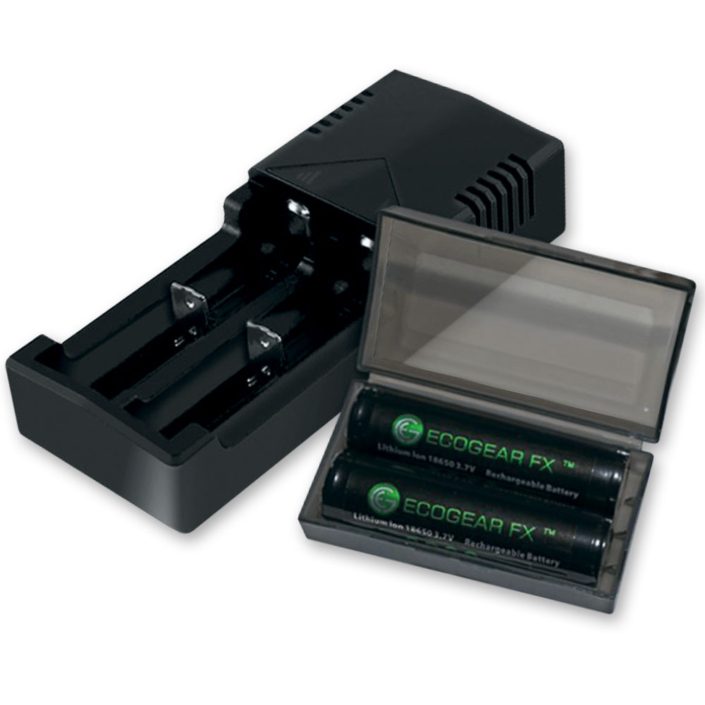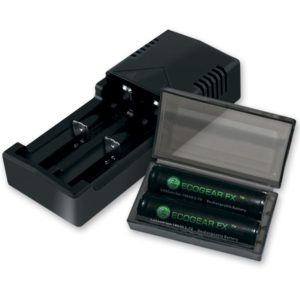 Charger Specifications:
• Charges 2 Batteries Simultaneously
• Automatically Detects Battery Status and Selects the Appropriate Charge Mode
• LED Lights Display Charging Progress
• Auto-Stops Charging when Complete
• Detachable Power Cord
• Certified by RoHS, CE, FCC
• Compatible with Batteries
Li-ion: 18650, 17670, 18490, 17500, 17335, 16340 (RCR123), 14500, 10440
Ni-MH: AA, AAA
Battery Specifications:
• Capacity: Nominal: 3000mAh, Minimum: 2800 mAh
• Internal PCB Protection: Prevents under-voltage at 2.5V and over-voltage at 4.25V
• Nominal Voltage: Average 3.7V
• Cut-off Voltage: 2.5V
• Internal Impedance: less or equal to 180 milli-ohm (with PTC)
• Cycle Performance: 90% of initial capacity at 400 cycles
• Cycle life: > 500 cycles
• Charge: Current = 0.5C (~1500mA) Voltage = 4.2 V End Current = 0.01 mA
• Discharge: Current = 0.5C (~1500mA) End Voltage = 3.0V
• Dimensions: Diameter: 18.5 mm, Length: 68.7 mm
These batteries are NOT recommended for high-drain devices (i.e. Vaping Products).