Best 7 Features for a Men's Tactical Shoulder Sling Bag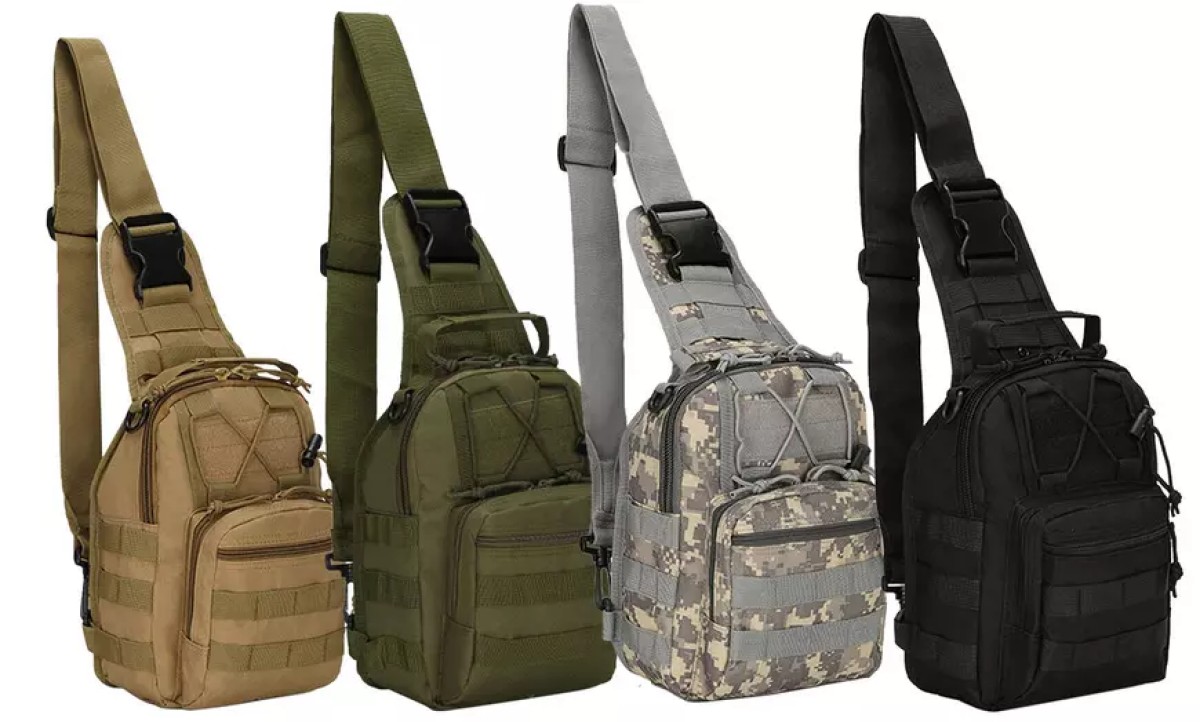 Are you planning a hike or camping journey but don't need a bulky backpack? Maybe you just need a casual shoulder bag. A men's tactical shoulder sling bag is the perfect alternative.
Whether you wear the tactical shoulder bag for the entire adventure or just a small part of it, such as a day trek during your camping trip, is up to you. Either way, it's vital that you choose the right product. When you do, your trips will be greatly enhanced. Here's why.
1. Compact Size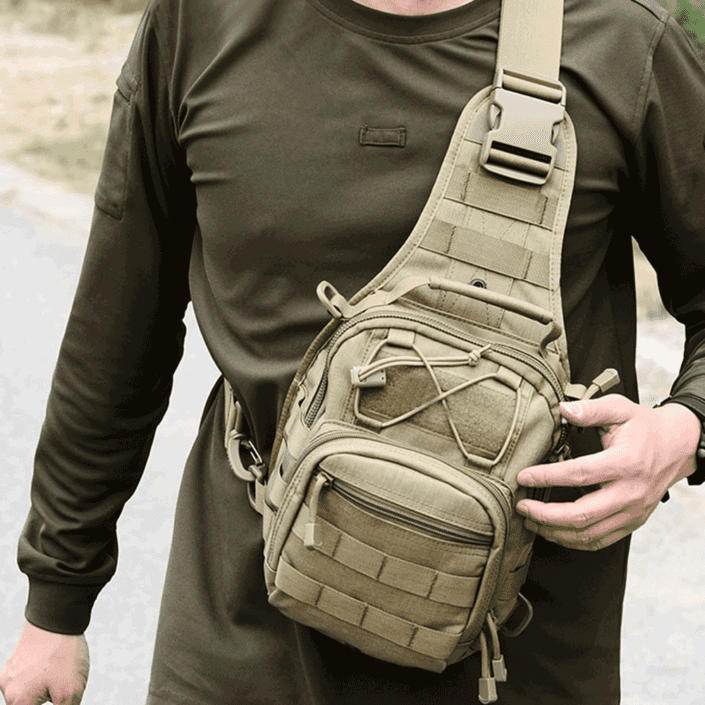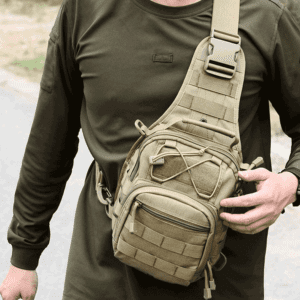 The main purpose of selecting a men's tactical shoulder sling bag rather than a backpack is that it delivers a more convenient and comfortable solution. For this to happen, though, you must ensure that the sling is compact in size.
With dimensions of 28 x 13 x 18 cm, the XGear Tactical Sling Chest Bag is an ideal size for adults and teenagers alike. Once strapped over your chest or back, it won't restrict your movement in any way during the hikes. As well as trekking, you'll find that cycling with a sling on your back is convenient too. This allows you to enjoy activities to the max.
While there are still many situations where a backpack will serve you well, a tactical shoulder sling opens the door to new possibilities.
2. Lightweight
Compact dimensions are great, but the best results will only be achieved when supported by lightweight materials. Polyester and nylon are two of the most popular choices. Crucially, as well as being lightweight and breathable, those materials offer good durability.
Given the intended usage, the lightweight yet robust materials are essential. Lightweight materials will also feel more comfortable on your back or in the hand. Many users find that tactical shoulder slings featuring mesh backings bring added comfort while promoting lightweight benefits. It is particularly useful when wearing the item for several hours.
If you are planning to carry relatively heavy items within your shoulder bag, the last thing you need is to be weighed down by denser materials.
3. Waterproof
Men's tactical shoulder sling bags are completely waterproof, protecting all stored items in style. This prevents any damage caused by the rain or even liquid spillages. So, you can complete your adventures in any climate conditions.
The waterproof attributes will additionally enable you to wear the sling when swimming, kayaking, or rafting. You won't want to swim with a full-size backpack, so this offers a fantastic solution. Similarly, the fact it takes up less space makes it a great option to have on a fishing boat for both sea and freshwater adventures.
When your men's shoulder sling bag is fully waterproof, it protects all internal items and also aids the lifespan of the bag itself. perfect.
4. Storage space
While you want the overall product to feel lightweight and compact, you need it to have enough internal storage space for whatever items are needed on the trek, bike ride, or fishing trip. Otherwise, you won't be able to carry all of the products that you need.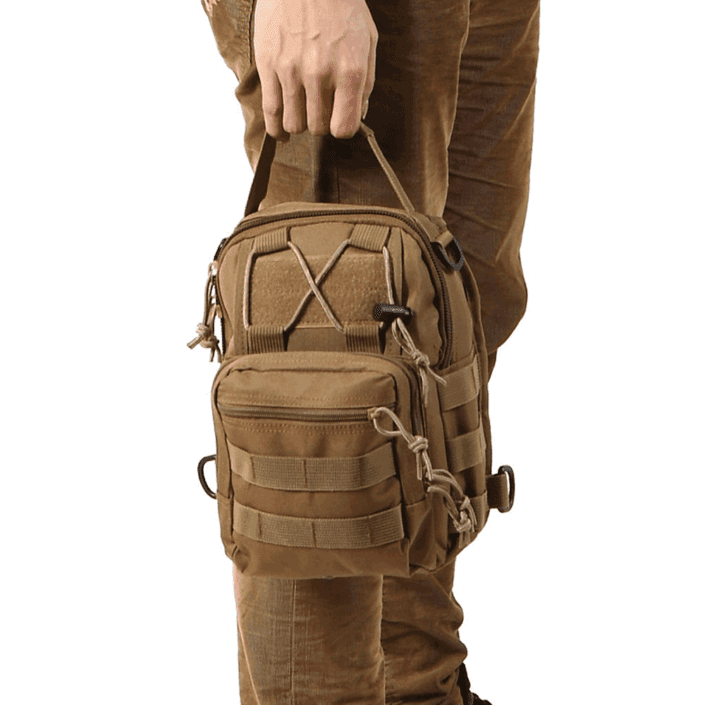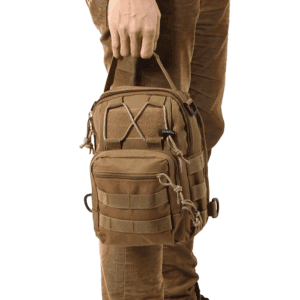 The best daypack bag will provide a suitable solution for several hours, it needs multiple pockets, divisions, webbing and compartments. This means you can keep food, documents, and travel essentials conveniently stored. In turn, you can gain access to any necessary items in the quickest possible time. You'll have enough space for electronics too.
A bigger storage space enables you to carry more items. In some cases, you may be able to share one sling between two people and take turns in carrying it.
5. Versatility
When carrying a backpack, the options for wearing it are somewhat limited. You will only wear it on your back while the bulky nature and restrictive mobility will limit your possibilities further. Switching to a tactical sling chest bag gives you plenty more options.
The shoulder bag can be worn on your back, over the front of your chest, or even to the side. Likewise, a men's tactical shoulder bag that incorporates a handle means you can carry it like a bag. Depending on the nature of your trek, you may find that all possible configurations can be used in a single day. That versatility will work wonders for your enjoyment.
Furthermore, that versatility means that you may use the shoulder bag in daily life. For example, you may use it when cycling around town or to your work.
6. Looks
When taking a trek, esthetic appeals won't be the top item on your agenda. Nonetheless, there can be no denying that looking good makes you feel good. A tactical shoulder bag will bring the same appeal as a small tactical backpack, but with some added features.
Men's tactical shoulder sling bags are available in all of the colors you'd expect. This includes black, green, camouflage, brown, and other patterns suited to outside activities. When coupled with the compact size, single shoulder strap, and mesh features, you will be guaranteed to stand out for all the right reasons.
Whether using the sling back in daily life around town or at a National Park doesn't matter. A strong esthetic appeal is guaranteed.
7. Value
Finally, a men's shoulder sling bag delivers a very affordable solution. After all, the reduced amounts of material and simplistic designs lead to cheaper manufacturing costs than comparative backpacks and bags. So, even premium brands offer low prices.
Let's face it; you would much rather spend money on activities and other items for your camping or day trekking activities. Saving funds by choosing shoulder strap sling bags is one of the most effective ways to make it happen. It is a particularly popular method if you are only planning a single trip rather than regular adventures.
Every purchase made for your outdoor adventure preparations should be made with financial aspects in mind. As such, affordability is a key feature of this type of bag.
Conclusion
Men's tactical shoulder sling bags are fantastic solutions for new and experienced adventurers. If you only need to store a small number of items, they are ideal. D-rings and other accessory features allow you to build the perfect setup time and time again.