People Ask What Does MOLLE Mean?

When it comes to attachment systems for tactical and survival gear, the go-to option is the MOLLE attachment system. It's the one that's preferred by many organizations, including the US military and various others that need durable equipment for outdoor activities. Many people ask what does MOLLE mean and it's a handy way of being able to attach equipment to the outside of a tactical shoulder bag or other items, such as tactical vests. The system is designed to keep all attachments firmly in place so that they don't move around too much while they are being carried. MOLLE attachments can be used in a variety of ways, making them flexible and versatile.
If you're interested in using the MOLLE attachment system, keep reading to find out more about it and what products you should be looking for.
What Exactly Does MOLLE Mean?
Modular is an acronym for modular lightweight load-carrying equipment. The term is used to define the load-bearing equipment and backpacks that are used by various NATO armed forces, such as the US Army and British Army. It replaced the previous system, all-purpose lightweight individual carrying equipment (ALICE), although this system is still used by many organizations, such as police forces. MOLLE is based on the Pouch Attachment Ladder System (PALS) webbing equipment and is now a well-recognized way to attach equipment to modular tactical gear.
The MOLLE system was first introduced in 1997 and there are some standard MOLLE components. These include a Tactical Assault Panel, which is worn on the chest, a medium rucksack, a large rucksack, a hydration bladder, and various modular pouches that can be attached. MOLLE systems can be found across a range of different products and brands, making it easy to choose a product that you like and attach any compatible components.
How Do You Use MOLLE Systems?
Using the MOLLE system is easy. However, some people do manage to get it wrong. The most important thing to remember is that the straps and sticks on components need to be weaved through both the backpack (or vest) and the module that is being attached. This provides the best security and prevents modules from sliding around or putting too much pressure on any one part of the webbing.
The strap or stick should first slide into the top or bottom piece of webbing, and then should be fed back into the webbing on the module that is being attached. It should then be alternated between the webbing on the main element and the webbing on the accessory until the end is reached, and then clipped into place to secure it. This ensures that everything is secured into place with minimal movement but items can still be quickly removed when needed.
Which Products Have MOLLE Attachments?

You can find a multitude of products with MOLLE systems, ready for you to attach different types of gear to them. Firstly, there are the main components that you can use to carry gear both inside and out. They have MOLLE webbing on the outside so that you can attach all of your extra items. Then you can find smaller pouches, bags, and modules that are compatible with MOLLE so that you can attach them with ease.
Backpacks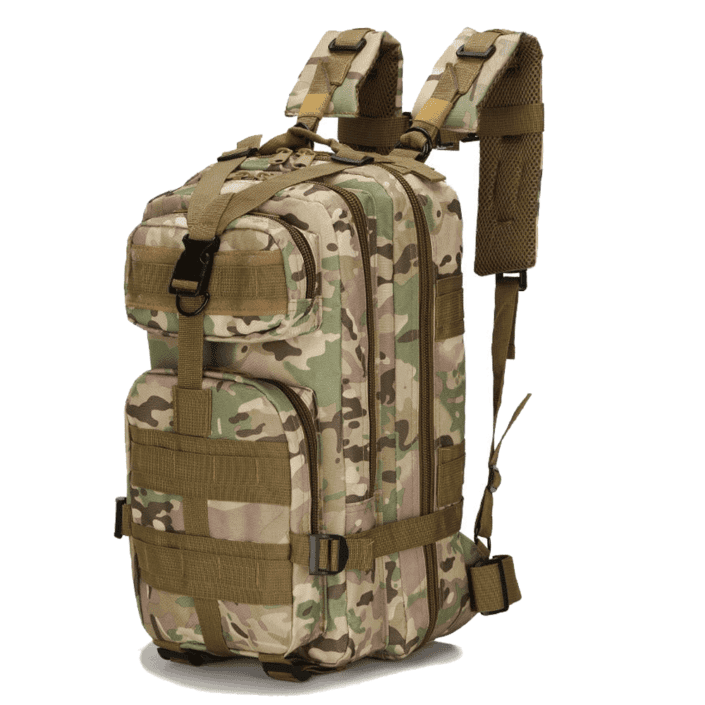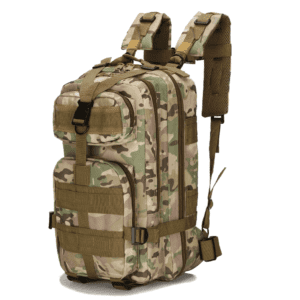 If you're enthusiastic about the outdoors, survival, and other pursuits, it's important to have a good tactical bag. A backpack is very practical, allowing you to carry all of its weight on your shoulders, and often with waist and chest straps to distribute more weight too. It's also ideal for attaching more modules to the outside, especially when there are certain items that you want to be easily accessible, instead of having to reach into your bag to pull out something that you need.
You can find various tactical backpacks small and large sizes, which are useful for different purposes. A small backpack with a capacity of around 30L is ideal to carry during the day on hikes and other outdoor trips. It's not too large but still offers space to attach items to the outside using the MOLLE system on the front and sides. Larger backpacks can be useful too, especially if you're planning a trip of several days or longer, or you have a need to carry more gear with you.
Other Bags
As well as backpacks, you can find bags of other types that have MOLLE webbing for you to add your gear. One slight variation on the backpack is a sling, which is worn with the strap across the body and one shoulder. The bag itself could be worn across your chest or on your back, depending on how accessible you want it to be. Sling bags will often be smaller than backpacks, but can still fit plenty in them, especially for day trips. Plus, you have space to add more with the webbing. Other bag types can range from laptop bags to waist packs and messenger bags.
Outdoor Vests
Tactical vests are another option for those looking for MOLLE systems. They can simply be worn over your clothes so that you can attach any modules that you want to them. Of course, if you wear a vest, you need to be able to move in it. Taking it off and putting it down might be a little more difficult than with a backpack. However, it can be useful for a range of activities, from fishing to shooting.
MOLLE-compatible Modules
You can also find a wide range of different modules of varying sizes that will attach to your MOLLE system. You can find attachments designed for specific purposes, such as water pouches or bottles, first aid kits, and phone pouches. Or you can simply buy pouches of various sizes that are suitable for what you need to carry and that you can attach to your bag or vest wherever you want to put them. It's useful to have modules of different sizes so that you can grab the best options for different purposes when you need them.
MOLLE attachments are extremely useful for all kinds of outdoor and survival activities. They're versatile and can be used in a wide variety of ways.