Top 5 Features for the Best EDC Pocket Flashlight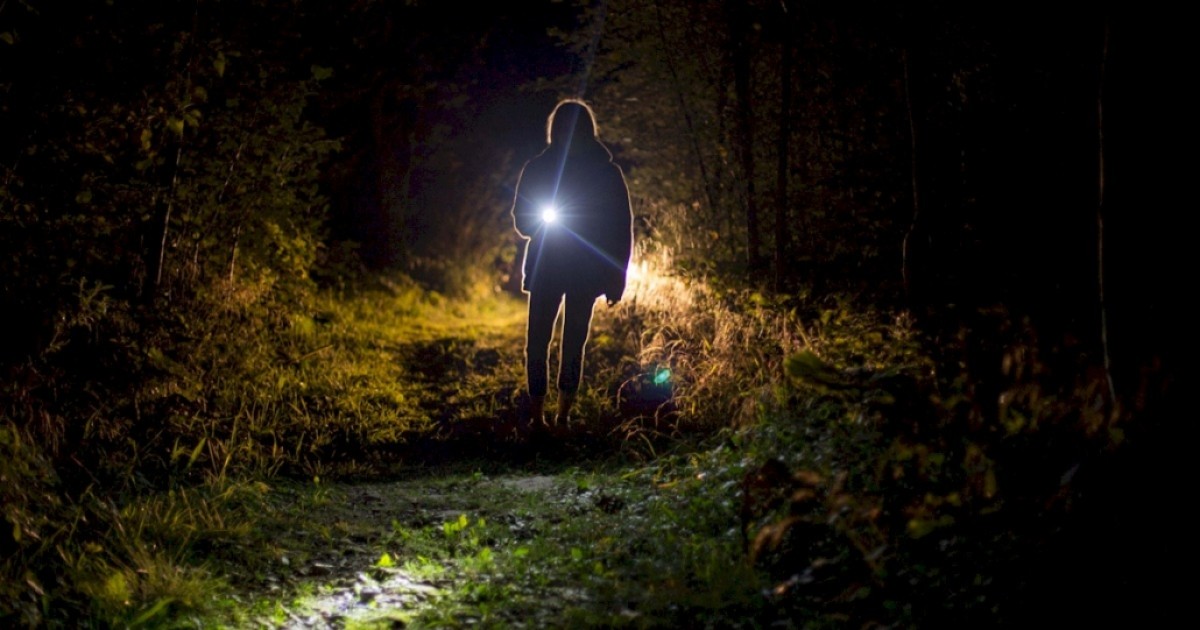 If you are looking to purchase a flashlight, you may be feeling a little bit overwhelmed by all of the different options that are available. There is no need to panic, though, as we have got you covered. Below, we will reveal more about what an everyday carry flashlight is and what features to look for in the best EDC pocket flashlight.
What is an EDC flashlight?
EDC stands for Everyday Carry. So, as the name indicates, this is a pocket-sized flashlight that is designed to cater to your daily needs. Convenient and effective, this sort of flashlight will be your best friend when you least expect it. After all, you never know when you may need a flashlight.
From dropping something on the floor in a movie theater to an annoying power failure, flashlights are needed more often than people expect. After all, darkly lit places can turn up at the strangest of times. From poorly lit closets or hallways, to needing to find something under your desk at work, or under your car seat… you get the point!
Of course, an EDC flashlight can be a must-carry item in a number of different industries as well, be it in law enforcement or the security sector. There are a lot of people that will carry an EDC flashlight on them for their own personal safety. It certainly comes highly recommended!
What are the top 5 features to consider when looking for the best EDC pocket flashlight?

Now that you know what an everyday carry flashlight is and the benefits associated with it, let's take a look at the five key features you need to be looking out for.
1. Different light modes
The first feature that you will find with the best EDC pocket flashlight is varying light modes. For example, the E300 flashlight provides three different light modes; Low, High, and Strobe. Not only should the various light modes be available, but they should be very easy to use as well.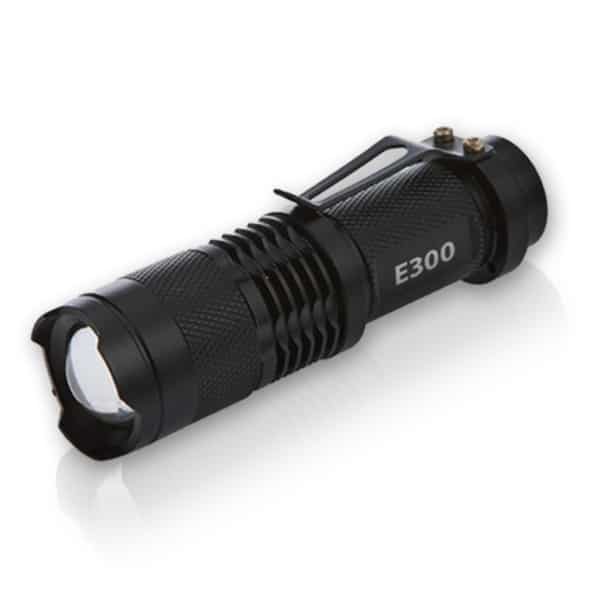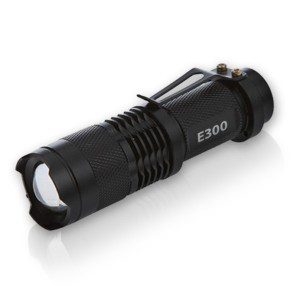 The reason why different light modes are important is that it means that you will be accommodated no matter the situation.
A bright light beam can be effective when you need optimal visibility. This is ideal for those in the military, law enforcement, or for individual self-defense.
On the other hand, when less light or standard use is required, a low light beam will be more than sufficient.
Aside from this, the strobe light option is another popular feature you will find on the best EDC pocket flashlights. This is ideal when it comes to self-defense. If you are faced with a possible security threat, you can shine the tactical strobe light into the person's eyes, which will shock the vision of the person in question.
The strobe light helps a person escape a situation or gain the upper hand. This is because the brain is forced to complete partial images that are created due to being exposed to the strobe for a moment. These after images compound with every strobe exposure, which raises the perceptual disparity. Things like this can make all of the difference when it comes to a personal security situation.
2. Adjustable focus zoom lens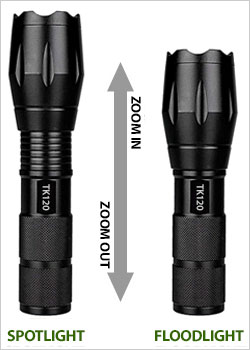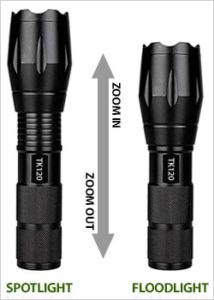 Aside from offering different light modes, you will want a flashlight that comes with adjustable focus zoom. This feature gives you the ability to focus the light beam so that light on the targeted area is enhanced.
An adjustable focus zoom lens is especially beneficial when a narrower beam is required so that something specific can be viewed from a long distance.
A good example of this would be if a security guard was approaching a situation that appeared dangerous. Moreover, hunters moving up onto an animal would find this zoom feature to be very useful.
3. Long LED life
In addition to the different features that we have mentioned so far, you will want to make sure that the flashlight you choose will last for many hours. The last thing you want is for your flashlight to fail on you when you need it the most.
With our E300 Flashlight, you can expect a 100,000-hour LED. Pretty impressive, right? The bulb is long-lasting and you do not need to worry about any sort of burnout. This is exactly what you need when purchasing an everyday carry flashlight.
4. Reliable power options
Another element that you need to consider when you are looking for an everyday carry flashlight is what is required to power the flashlight.
In most cases, your flashlight is going to be battery-powered. Make sure you check out the description so that you know what sort of batteries you are going to need.
Most people like flashlights that come with rechargeable batteries. However, you should also have the option of using standard batteries, such as AA Alkaline Batteries.
5. Durable and rugged construction
Last but not least, you need to make sure that the flashlight is constructed to a high level of robustness and durability.
Look for materials such as aircraft-grade aluminum alloy, which is known to be of an extremely strong standard. Most of the best flashlights will have an extra finishing product, such as a hardened anodized finish to ensure extreme ruggedness.
You will also want to make sure that the flashlight you purchase is able to handle the elements effectively as well, so make sure that it is shockproof, anti-abrasive, and water-resistant as well.
Final words on finding the best EDC pocket flashlight for you
So there you have it: an insight into some of the different qualities that you should consider when looking for the best EDC pocket flashlight for your needs.
If you consider the five key features that we have mentioned above, you will have the best chance of finding a flashlight that is reliable, effective, and won't let you down.