Bright Small Keychain Flashlights: LED Key Ring with Bright White Light (10 Pack)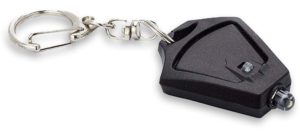 These are perfect small keychain flashlights that are helpful to aid in emergency situations or for general safety. While standard household LED flashlights are a great lighting solution, they are too bulky and uncomfortable to carry around. These compact LED keychain flashlights are small, lightweight, and easy to fit in your pocket, purse or on your key ring. They offer a single LED bulb which provide a bright white light when the back power button is pressed. You can easily use the carabiner clip to fasten the keychain to almost anything for added convenience. These small key-chain flashlights are the perfect travel accessory for family, friends and coworkers.
Tiny LED Flashlight Keychain
TWO MODES: ON/OFF squeeze button or slide switch down to keep on
POWER – Powered by 2- CR2016 button batteries (included)
USAGE – Portable key-ring flashlight for emergencies and safety
FEATURES – Easily fits in pocket or purse, makes a great gift, bright LED bulb shines over 1 mile
RUNTIME – Up to 12 hours of battery life; 100,000 hour LED life
COLOR: Black
LIGHT COLOR: Bright White
DIMENSIONS: 1 x 1 x 0.3 inches
WEIGHT: 0.2 Ounces
Versatile and Simple to Use
One of the most versatile accessories you can carry with you, a handy LED keychain flashlight. They are very handy throughout your day and are perfect to use in case of emergency. You can also give keychain flashlights as a gift as they have many versatile uses and features. Attach to your car keychain, zipper, belt loop, backpack, camping gear, hiking gear, jacket, dog light, safety light, and many other uses.
Battery Replacement:
Remove the 4 small screws on the back to replace the batteries. It takes 2- CR2016 button batteries which last for about 12 hours of usage.