What Is A Portable Power Bank Fast Charger?
Everyone loves a smartphone. They are incredible tech devices capable of doing everything from sending loved ones a simple text to streaming videos or managing your business finances. And if you love exploring the great outdoors, they are an essential tool for communication, navigation, and entertainment purposes. Sadly, there's one thing that seemingly can't do: provide a full day's worth of charge. Until now.
Step forward and discover the portable power bank fast charger for cell phones and other mobile devices. Whether you're team Apple or team Android, this simple accessory may prove to be the most effective way to enhance your existing setup.
A Great Option to Quickly Recharge Your Mobile Devive
A power bank is a portable mobile device fast charger that is built to replace traditional mains chargers and provide additional power to your tech devices when you're on the go. Naturally, they are a great tool for any keen adventurer who may be without access to a power outlet overnight or for several days.
Power banks can be used with any smartphone, along with a wide range of other devices, including but not limited to;
GPS and geocaching devices,
MP3 players and portable speakers,
Cameras and video cameras,
Laptops and tablets,
Portable camp stoves or kettles.
In short, the mobile device chargers can work with virtually any gadget that is connected to power supplies via USB or mini-USB connection.
How Does A Portable Power Bank Work?
Portable device chargers are as simple to use as you would imagine. While there is some variation from model to model, the fundamental features remain consistent. The power bank is quite literally a portable power bank fast charger typically stored in a lithium-ion polymer battery. It is essentially a portable battery that can store a set level of electricity before redistributing that energy to other devices once it is required.
Ultimately, users will transfer power from their home's power supply to the battery pack before subsequently transferring that same electricity to whichever device needs it. Utilizing the power bank is truly as simple as 1-2-3.
Step one: before leaving for your hike or outdoor adventure, charge the power bank by connecting it to a mains power supply.
Step two: connect the power bank to your chosen device via whatever cable it uses, and remove it once the smartphone or gadget is fully charged.
Step three: repeat the charging of devices as and when required until you are back home or around another power supply.
While the process is very simplistic, a high-quality mobile charging device will be equipped with a wide range of sophisticated technologies. This is to prevent energy being lost when the power bank is turned off or unconnected to a device while additionally protecting the connected smartphones or devices from overcharging or damage.
Why Buy A Portable Power Bank For Outdoor Activities?
Power banks have become immensely popular gadgets with a mainstream and universal appeal. Nonetheless, their potential benefits for individuals in trekking, camping, and outdoor exploration circles are particularly noteworthy. They are a great mobile phone accessory and probably just as important as a dry bag for phones to keep your phone dry.
Some of the most common reasons why campers and adventurers like to carry a portable power bank include, but are not limited to;
They offer a significant boost of fast power, charging most smartphone devices three times from a single charge, thus meaning your cell can last for a total of four times longer.
They are a compact and lightweight solution, often as small as a credit card, meaning they take up little storage space and do not weigh users down on treks.
The fact that they can charge multiple devices means you only have to carry one additional piece of equipment rather than multiple power plugs.
Power banks enable you to fully embrace the array of tech gadgets currently on the market for fishing, geocaching, and a range of other outdoor-based adventure activities.
The additional power ensures that you can touch base with friends and family back home, in case they experience emergencies or need you to return.
The power bank gives you the emotional comfort of knowing you will be able to contact mountain rescue, park rangers, or any relevant expert if it's required.
Mobile device chargers can be charged by motorhomes and recreational vehicles, meaning you can charge them just before the day's adventure.
They are permitted for use in virtually every situation and can be taken on flights and other transport facilities as required.
They deliver the safest and most reliable form of device charging when you are not at home while the built-in features protect devices from encountering problems.
The power bank looks cool and makes you feel like you have fully prepared for the adventures to come. This can enhance the off-grid experiences.
In addition to the benefits that will directly influence your adventures, a power bank can be used to enhance your daily life. From knowing that you'll never run out of charge during a long day at work or having an emergency backup in case of a power outage, the rewards are clear. For similar reasons, many people like to keep one in their vehicle for peace of mind and protection when breakdowns occur.
What To Look For In A Power Bank Fast Charger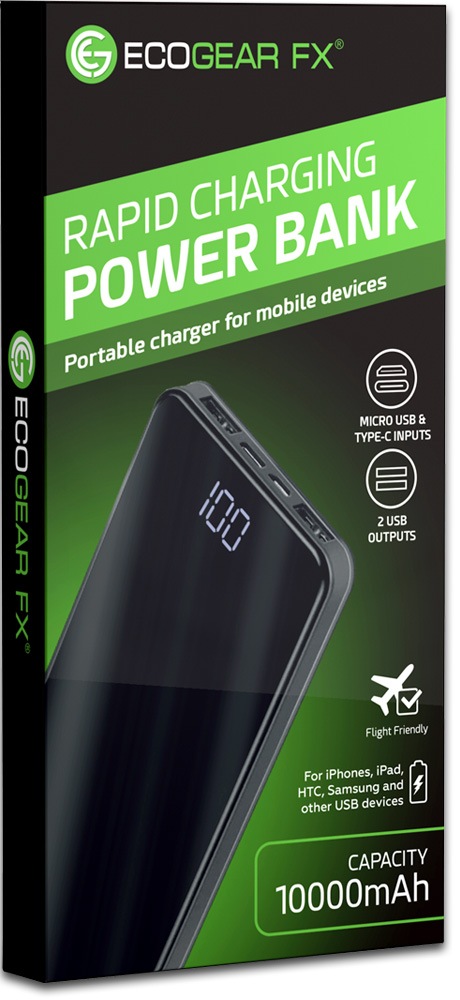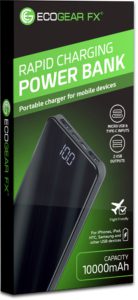 The popularity of power banks has, unsurprisingly, resulted in many products hitting the marketplace. After all, they are fairly cheap and easy to manufacture while virtually everyone owns a smartphone or gadget that could benefit from portable charging. So, it's important to find one that lives up to the expectation.
When seeking the right product for outdoor adventures, the following checklist should lead you to a smart solution;
Check that it uses a Li-Polymer Battery, which have higher densities and lower explosion risks than the Li-Ion counterparts.
Look for the dimensions, weight, and outer casing material.
Confirm that it will offer enough charge to your smartphone and other gear that may require a power boost.
Check that it is compatible with your device (s).
Look at the price. You should pay around $25 for a good quality power bank suited to camping and outside activities.
You may seek additional features, like dual charging to add power to two items simultaneously. Similarly, added certifications may be important to you. One way or another, power banks are a great accessory for anyone that uses portable gadgets, especially when they are away from home for long periods.
In today's world, running out of juice is simply not an option. Check out the 10,000 mAh Power Bank for more info today.